Download our Lent 2018 Guide and join us for this journey! 
Russian novelist and philosopher Fyodor Dostoyevsky famously wrote:
"Beauty will save the world"
I believe what Dostoyevsky was asserting is that beauty has a peculiar and mysterious power to stir us, to awaken us to the miracles of life and living.
But life has a way of beating that wonder and awe out of us. For many of us we've grown cynical, bitter, and unavailable – which leaves us feeling like sleepwalkers, spectators at best in our own story.
The aim of Beauty in the Common is to serve as a sort of liturgy of remembering, of slowing and seeing the depths and fullness of all that is around us. That fullness is seen, not only at the mountaintops, but also the mundane, everyday spaces of our lives.
That is why we created this simple guide along with a "Photo a Day" challenge for this season of Lent. Join us!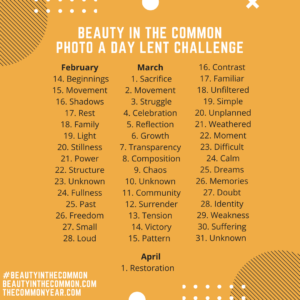 During this season of slowing and seeing – we invite you to post a photo each day following the calendar below with the hashtag #beautyinthecommon.. Our hope and prayer is that by pausing each day of Lent to see beauty in mundane, unexpected places, that your heart will become more and more attuned to seeing God's presence all around us.
Using the calendar, post a picture each day that shows a glimpse of beauty in that area. You can then search the hashtag and pray for others who are also posting. Pray that your image might encourage, spur, or inspire someone else.
Download our Lent 2018 Guide and join us for this journey!